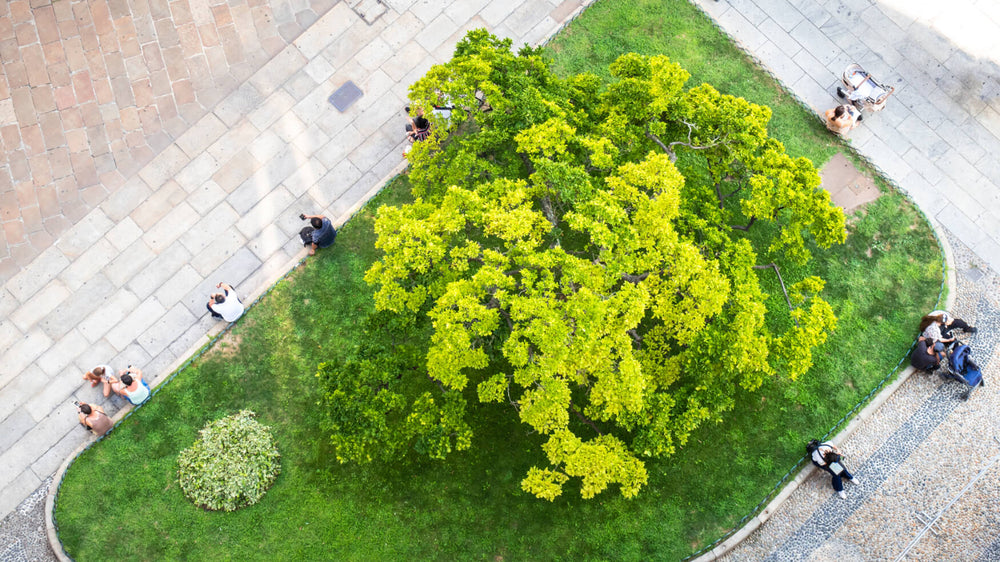 If you go online to shop from your favorite small and large retailers, chances are you've stumbled across a tree planting project or two. But what are they exactly? How do they work? And can you really trust that trees are being planted all across the world just because you placed an online order? To answer your questions, we've mapped out everything you need to know about the tree planting trend, how it works, and what it means for you in the blog post below. Happy reading!
Why We Need Trees (Lots of Trees)
Trees are a vital part of our ecosystem. Without them, life on our planet would cease to exist. It's as Meg Lowman (director of the Tree Foundation) says, "forests are the lifeline of our world."
Trees are integral to nature's carbon cycle, which circulates a healthy amount of carbon dioxide (CO2) throughout the atmosphere and living organisms. Without trees, the air we need to survive would be filthy and totally unsuitable for our needs, throwing off the carbon to oxygen ratio. The massive increase of carbon would also sink into the oceans, killing nearly everything in the ocean.
And if that weren't enough...trees also help keep the earth's ecosystems healthy by preventing erosion and chronic drought, filtering out harmful pollutants, and keeping temperatures cool.
Trees are also the source of so many of our everyday products, from paper to wood to foods like spices, nuts, and maple syrup. Trees and forests are also home to countless plant and wildlife species around the globe. These friendly green giants are vital for our species, too, with one-fourth of the world's population being reliant on forest resources for their livelihoods.
So, in other words, we NEED trees and lots more of 'em.
What is the Tree Planting Trend?
Since the industrial revolution, our species has been decimating forests at an alarming rate (forests have declined about 32% since the industrial age), with estimates that nearly 15 billion trees are cut each year. Other estimates state that 260,000 sq. kilometers of forests are destroyed every year—a space as big as the United Kingdom!
These irreplaceable organisms are being lost every minute by deforestation and even wildfires as temperatures increase and we continue to clear more and more land unsustainably, putting thousands of species at risk for extinction each year. To help combat these losses, scientists have stressed the importance of planting trillions of trees across the world, calculating that this is one of the cheapest and most successful ways of taking excess CO2 out of the atmosphere.
Companies worldwide recognize the value of planting trees for the environment, improving biodiversity, and contributing to a business's social responsibility to contribute to sustainability. And they've stepped up. Today companies and governments alike are planting millions, billions, and even trillions of trees, in part thanks to a collaboration with tree planting services and organizations like Treeapp and the National Forest Foundation. 
Our Mission and Partnership with The Treeapp
At Little Danube, we stand by the fact that it's never too late to help make a positive difference in the world—even when making our day-to-day purchases. As a brand built on sustainability and ethics, we want to do our best every step of the way, and this applies to our partnerships and even what happens after you support our shop.
By partnering with like-minded brand Treeapp—who share our values of taking action and spreading the word on sustainability and being radically transparent about everything they do—we have committed to planting one tree every time you spend £10+ with us. In this small but mighty way, we can continue to make strides and help give back to the earth one tree at a time. Because just one tree alone can make a world of difference.
How Tree Planting Works with Treeapp
Treeapp is a company that strives to improve the world we live in at large by enabling people to plant one tree for free every single day with only minimal effort required. Treeapp works to spread the word of sustainable practices throughout the corporate world while taking action to solve the problem of deforestation and climate change.
They've got big goals. Seriously. They want to plant one million trees a day, and they're well on their way, having planted 400,000 trees in just one year.
But how can they do this? Treeapp works with local communities to create fair-paid jobs, partnering with seven carefully selected NGO partners: Cepan, Eden Reforestation Projects, Green Ethiopia, Friends of Usambara, Greening Burundi, Renascedd, and Progreso. Treeapp currently has 132 projects in 14 different counties, with their largest sites in Madagascar and Tanzania.
These projects are fully transparent in their tree-planting operations (so you can feel confident knowing that trees are actually being planted), and they work globally in the regions that need it most. Treeapp also ensures that all of your trees are planted through organized planting sites, working with forestry experts, the use of drone footage, and geolocation and sampling that are able to confirm the success of the planting season.
To pay for all these trees to be planted, Treeapp and its planting services are sponsored by companies and businesses with green initiatives. Treeapp has over 100 brand partners, including Little Danube, that have enabled them to reforest land the size of Monaco. 
What it Means for Consumers
Treeapp enables app users to plant one free tree a day (that's 365 free trees a year!) and make personal contributions to the health and wellbeing of our planet and all species involved, and it takes only minimal effort!
After downloading the app, you'll enter a few of your details, ensuring that you're seeing the most relevant promotions from Treeapp's hundreds of ethical brand partners. You will then choose where you want your tree planted, and get your tree funded by discovering the sustainable, ethical products and services offered by business partners like Little Danube.
You can even choose to fund as many trees as you'd like and plant them in the regions that need them the most. Certain partners, like Little Danube, make a commitment that by spending a certain amount on their website, you can plant one tree. It's really that easy.
Just by downloading an app and supporting sustainable, ethical brands like Little Danube, you can help restore habitats, create jobs, improve the health of our planet, and lower your carbon footprint. Who said you couldn't use technology to better the world?
To learn more about Treeapp and all of its tree-planting plans, download the app or visit their website.